With Star Wars: The Force Awakens quickly approaching, it's been an overload of Star Wars in our household. The kids are just old enough to watch the films (with supervision on some of the more salty portions, of course), so naturally I was chuffed when my eldest asked me to take pictures of her in Queen Amidala make-up. I still had some Ben Nye Clown White laying around for a day when I wanted to do something artsy fartsy anyway, so I whipped it out and got to work. The trick first off is to make sure the face is really clean. I did a nice warm wash pass on her face and then put her hair back with a band to keep the strays out of her face. You apply the make-up in layers just like you would paint. The first layer goes on, then you coat again and again until you reach the consistency that you want. I used foam application pads for foundation, which seemed to work well for this project.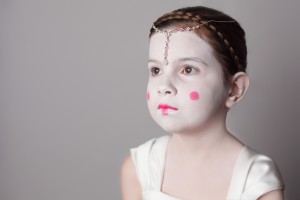 Now, since I don't keep Queen Amidala red lipstick around, I did end up using just whatever I had and photoshopping it a tiny bit. The gem on her forehead is a necklace I bought years ago and haven't worn since. The braided hair is actually a headband I got from Walgreens. It just so happened to match her perfectly!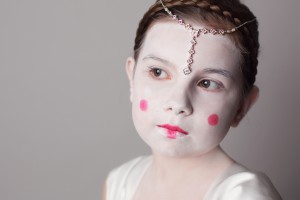 The trouble came with the dress. What to wear? I didn't have a red one just laying around and the costume she had looked very much like a costume and not so much photo-worthy (at least by my standards). Instead, we took out her Princess Serenity dress (which I never finished, because I hated the damned Simplicity pattern so much) and used that. Really the hardest part of the session was getting her to not smile for the pictures!
And that's how you spend a rainy weekend afternoon with your kid while daddy's out of town on business!