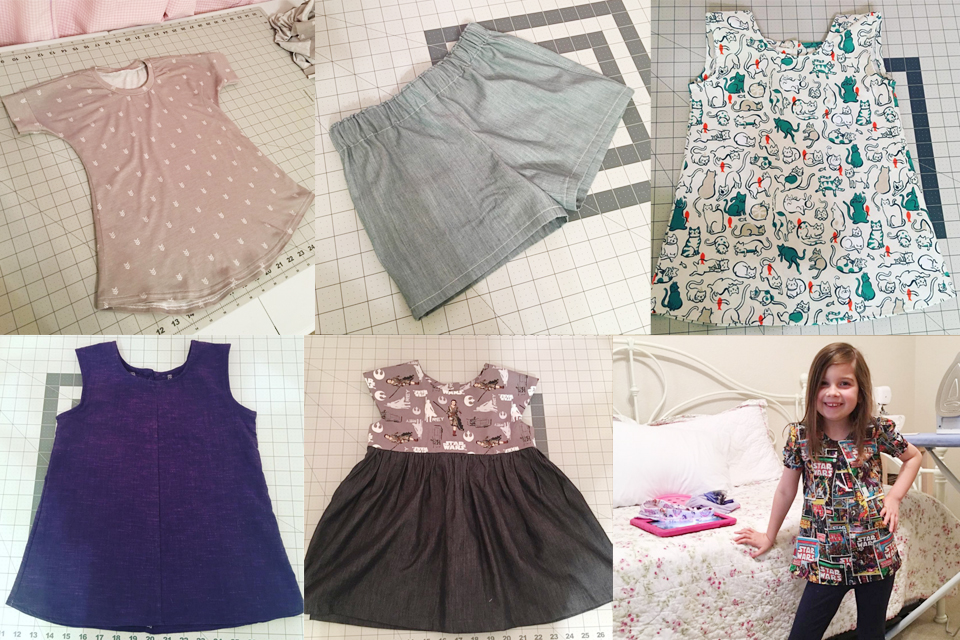 I may be certifiably insane at this point. To justify the purchase of the Husqvarna Viking Designer Epic (retail $14,999 — note: I didn't pay that), I decided to take on the grand quest of making at least half of my eldest daughter's wardrobe. That's a lot of work, but it was made quick via decent patterns! I'm still not even done. After discovering Patterns for Pirates, I've been whipping up Sugar Pie tees. The images above are just a sample of what I've done, but I wanted to put something here to indicate that I have actually done something since my last post in March 😉
Patterns used:
Patterns for Pirates Sugar Pie (top left)
BurdaStyle 144 5/2012 Elasticated Shorts (top middle)

I've actually made 3 pairs of these, two just aren't pictured yet!

Geranium Top – Made by Rae (bottom middle)
Top right, bottom right, and bottom left are a self-drafted pattern of my own design.
I have so much more done than is pictured here. I hope to get some really good pictures in the next few weeks and post them here!!!