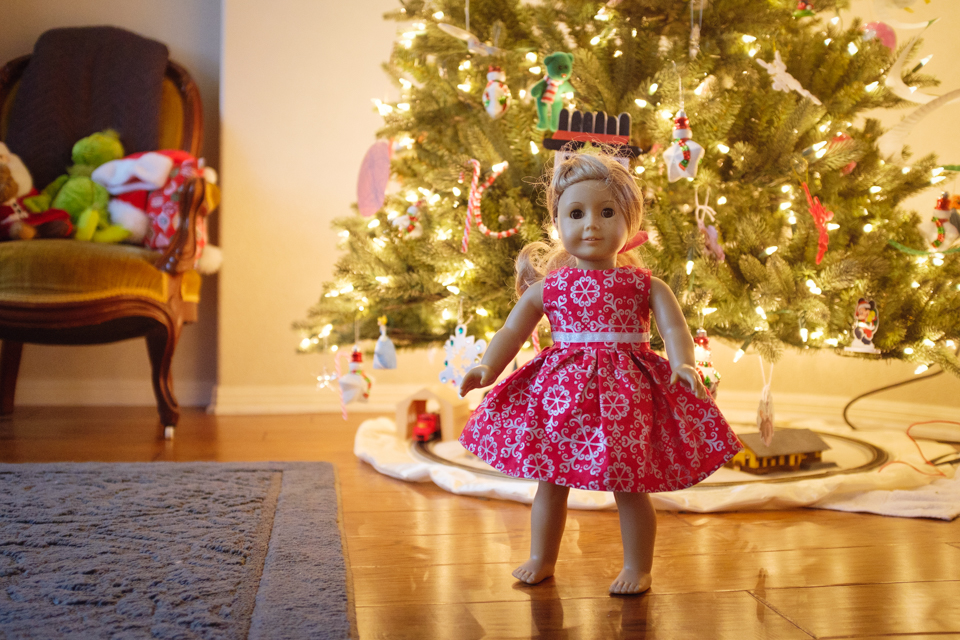 So last night I had my first attempt at a Twitch stream. For those who don't know, Twitch is a streaming service that used to be geared only toward gaming. It has since opened up a new channel called Creative, which allows crafters of all backgrounds and crafting types to share what it is they're working on. I streamed the sewing of a doll dress as a Christmas gift to my niece, who I hear has asked for an American Girl doll. Let's hope she gets it! *wink*
I made the dress using Simplicity Pattern #1484. Normally I would hate on Simplicity. The name is hilariously ironic to me since most of their patterns contain extremely complex instructions and way too many pattern pieces for constructions that should be … well, simple. This one, thankfully, is simple and I've made it a few times. It's quick, easy, and I figured it would be something I could do on my first stream without getting too nervous and forgetting what I was doing.
I don't normally talk while sewing. Actually, I cuss (more or less) — in particular when I forget a step or stab myself with a needle. That happens often and I had to filter myself last night to avoid putting the "mature audiences" warning on my Twitch feed.
In general, I think things went well. On average I had 6 viewers with a maximum of 10 at one point. I need to figure out how I'm going to stream music and still be able to hear alerts. I have a plan that doesn't involve me going full bore into Twitch and buying hundreds of dollars of equipment. It's just me sewing, after all, and I don't think I'll be one of those streamers that gets thousands of followers, in particular if I'm sewing doll dresses.
One thing I absolutely want to do going forward is continue to teach. I hope people watching last night appreciated the subtle tips and tricks I was giving as I did each piece of the pattern.
Here's a close-up shot of the belt details, which is just a silvery ribbon topstitched to the bodice: